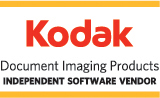 Kodak Capture Software Image Verification
An easy way to safeguard the integrity of your document images
A tamper-evident safety seal for document images
The plasticity of digital documents is one of their most powerful features. Digitization makes it easy to copy and move files, and cut and paste content. On the other hand, this very flexibility creates the potential for malicious alteration.
Kodak has developed a way to verify that an image output by its Capture Pro Software has remained unaltered from the source document image captured by the client Kodak Scanner. This no-cost image verification service serves as an insurance policy in the event of an audit, challenge, or suspected fraud.
An invisible process for transparent authentication
With signing enabled, simply process images as usual. No extra steps are required and there is no measurable change in throughput.
Check the integrity of an image at any time.
Under the hood, industrial-strength technology
The service's infrastructure uses the same X.509 digital signature and Secure Hash Algorithm (SHA-1) standards developed by the U.S. National Security Agency.
The technology generates an encrypted "hash" for each image, which it adds to the header that travels with each TIFF file.
The header information also includes the date and time of scanning and identifies the scanner and scanner operator, creating an audit trail.
The image verifier tool uses a private key held by Kodak to validate the public key associated with the file's hash.
If an image is altered, the action will compromise the hash. The image verification tool will flag the newly-saved version of the document as suspect.
Integrity protection that's free and easy
The image verification feature is included in current releases of Kodak Capture Pro Software. The image verifier tool is readily available as a free download at www.kodak.com/go/CSImageVerify. Unlike third-party digital signature certification services, there are no enrollment or per-use charges. You can implement Kodak's image verification service today.
Image security is serious business at Kodak
For 80 years, Kodak has been protecting the integrity of documents. Today, Kodak is addressing the challenges of digital documents with our image verification service. KodakCapture Pro Software is also fully integrated with our Reference Archiving strategy, which supports the printing of analog copies of digital documents on archival media. A Reference Archive offers another way to prove the authenticity of a document while supporting technology-independent disaster recovery.
Kodak wants to help your organization protect its reputation while reducing financial risk and legal exposure. Leveraging KodakCapture Pro Software for a no-cost layer of integrity assurance as part of an overall document security strategy is an excellent place to start.
For more information about KodakCapture Pro Software, contact Clarkson Companies, your Authorized Reseller of Kodak Document Imaging Products at 361.992.0890.